Being on the Review Crew has given me some amazing opportunities I've received some great products to review that I might not have had the chance to try on my own, or may not have even been aware of! Our latest review is on Kwik Stix and oh my goodness, are they just the most amazing product! I am loving these no mess kids art supplies and my kids are loving using Kwik Stix 12 pk from The Pencil Grip, Inc. 

About Kwik Stix
Kwik Stix are solid tempera paint sticks. They uncap and twist up like a lipstick. They are non-toxic and they look like paint on the paper or painting medium. You don't need brushes, smocks, and there is no mess- unless your toddler decides to twist the solid tube of paint out and squeeze it between her fingers when you go to get her brother up from a nap. The colors are vibrant and the paint dries quickly- in less than 90 seconds.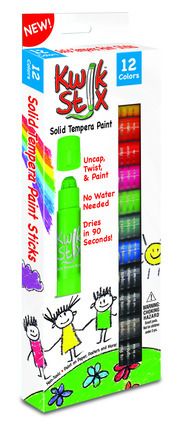 When They Arrived
When we got these in the mail, Boober was so excited! If you're a regular reader here at The Fraggle Momma, then you know Boober, my oldest son, LOVES to draw. We go through sketch pads so quickly I had to start buying them in multi-packs. They also were kind enough to send a sample pencil grip which I think will really help Boober with his handwriting this year.
The first thing I did when our Kwik Stix came in the mail was stop our math lesson, open them up and get them out. We had so much fun with them that very first day. I honestly thought they were more like the bingo dabbers but they work more like a lipstick. You have a solid tube of tempura paint and as your child uses it you twist the tube up- just like a lipstick!
How We Used Them
Before they arrived, I imagined that my daughter could use this for her do-a-dot pages. When we finally had them though I was a bit skeptical about that since they were not the dabbers like I had thought. I had the children give it a go with a do-a-dot page to test it out and they worked really well. Instead of pressing down, they simply colored in a little circle to fill each dot. It was much more vibrant as a result.
Honestly painting with Kwik Stix is quite addictive. I have loved sitting down with the children and painting as well. We have done several project with the Kwik Stix and plan to do several more. Kwik Stix have worked well on ceramics, paper, wooden coasters (we sealed the wood afterward) and Kwik Stix recently sent us a craft idea for Mylar balloons that we plan to use for Baby Wembley's 1st birthday in June.  

You can follow The Pencil Grip, Inc on Social Media and be sure to check out their website here:

Website:  http://www.thepencilgrip.com
Facebook:  https://www.facebook.com/thepencilgrip
Pinterest:   : https://www.pinterest.com/KwikStixPaint/
Twitter:  https://twitter.com/ThePencilGrip

You can also read more about how other members used Kwik Stix and what they thought by going here: